Leveraging the Personal Development Fund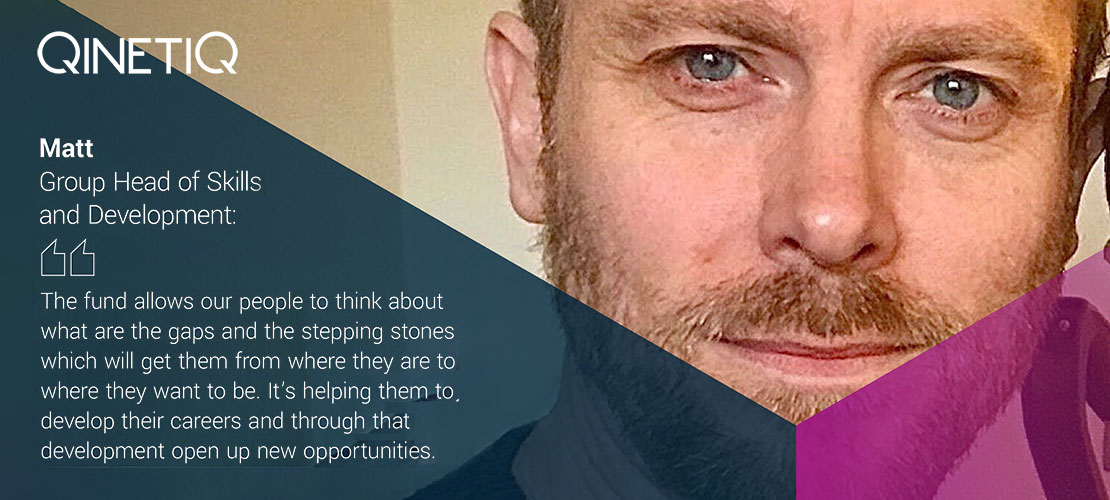 Listening to our people, we know that learning and development is important to them and being in the driving seat of our own development has benefits for our wellbeing, performance, achieving our goals and career satisfaction.
Our Personal Development Fund provides everyone at QinetiQ with more choice through access to an individual financial allocation to support career development. The fund is refreshed every April and we're currently encouraging our people to think about how they might use it this year.
Matt, our Group Head of Skills and Development, takes this opportunity to share more about what the fund is and the benefits it brings to our people.
Matt says:
The Personal Development Fund was launched in April 2022. It can be used for any type of development; from traditional face to face courses or workshops, to buying a book, attending a virtual webinar, or it could be all three of these things up to the value of the fund. It gives our people the freedom to invest in themselves and to drive their own development in a way that suits them; because everyone is different and everyone learns and develops in a different way.
Through conversations with their manager, everyone can think about the gaps and stepping stones which will get them from where they are to where they want to be. It's helping them to develop their careers and through that development open up new opportunities. We know it's making a difference; a colleague told me that they had been able to acquire a new skill which had put them in a position to join a different project, which they wouldn't have been able to be a part of before.
One of the most popular development types in the last year has been digital learning, with many of our people purchasing yearly subscriptions for platforms such as LinkedIn Learning. These types of sites have high grade digital learning content across a range of subjects. The best thing about digital learning is that it's at our fingertips, so we can put it into action immediately. We also encourage people to explore their Professional Body, for instance the Institute of Mechanical Engineers, as they often offer a great range of learning and development content and webinars and it's very specific to what you do.
Last year was a great year and I'm really excited we are making the fund available again this year. I have built my career in learning and development, so I'm really passionate about seeing people grow and getting the benefit from personal development.
Thank you Matt for sharing more about the Personal Development Fund. We hope all of our people are beginning to think of how they might use their fund this year to drive forward their personal development. To find out more about Learning & Development at QinetiQ, please visit our Life at QinetiQ webpage.