Listening to our people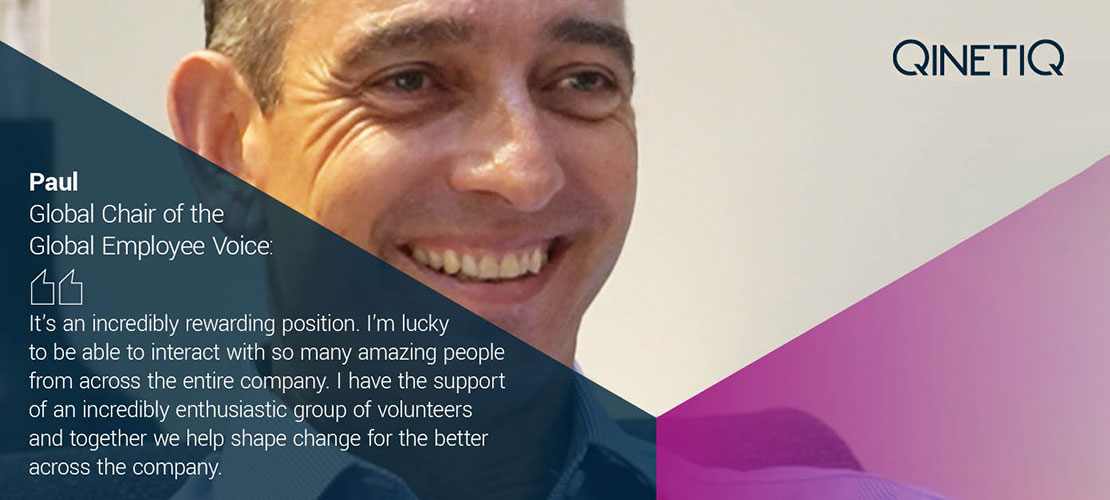 Listening to our people and responding to their feedback is an important aspect of Life at QinetiQ, helping us to grow our company and improve our how it feels to work here.
Central to our ability to do this, is the Global Employee Voice (GEV); a network of volunteer representatives across the company who aim to represent all their colleagues, championing their voices to our senior leadership team. They share the perspectives and experiences of our people, working with leaders to fully understand any decisions, changes to policies, or actions that might have an impact our people.
Paul Dorsett is the Global Chair of our Global Employee Voice; find out more about Paul and his role in building an environment in which we can all thrive.
Paul, from your own perspective, why is the Global Employee Voice such an important part of Life at QinetiQ?
The GEV provides a conduit for ideas and thoughts directly to those that make the strategic decisions about QinetiQ's future. GEV members are motivated and passionate about retaining the positive and looking for continual improvement in all aspects of QinetiQ. This is done in a proactive and reactive way, through balanced, unbiased, feedback to those who need to hear it.
A selection of GEV reps meet monthly with our CEO and Chief People Officer, and twice a year the Chairman. We never shy away from the difficult topics and our input invariably promotes engaging conversation with all, often resulting in change for the better.
In short, the GEV is an impartial group, which is independent of the company structure. It represents all, and champions the issues that matter most to QinetiQ employees.
Why did you apply to be the Global Chair?
The UK Chair of the Global Employee Voice, William, was the driving force behind the creation of the GEV, and I recall reading an email from him in late 2020, outlining the plans to create a Global community. The intent and ethos resonated with me and the thought of working more closely with other parts of the global business really appealed. I volunteered to be the Australian GEV Chair and gathered a team of volunteer representatives across our region.
Having been with QinetiQ for 10 years in operations, becoming the Global Chair was never really on my 'bucket list'. However, when it was time to rotate the Chair role, I asked "Do you really think GEV can be chaired from Australia?" … so here I am.
It's an incredibly rewarding position. I'm very lucky to be able to interact with so many amazing people from across the entire company. I have the support of an incredibly enthusiastic group of volunteers and together we help shape change for the better across the company.
What is the GEV currently working on and what are their biggest achievements to date?
Struth, how long do we have?! The GEV has recently helped shape the Cost of Living initiatives for each country, changes to the performance management process, and they continue to assist with the hardship fund administration. We are also working with several of the QinetiQ transformation themes, with an aim of helping shape the changes that will roll out across the company over the next few years.
Thank you, Paul, for taking time to share more about the Global Employee Voice and the activities you are undertaking at the moment.
To find out more about Life at QinetiQ, please visit our Careers pages.